International Shipping Partners
Our influence and bulk shipping volume have allowed Shoppre to build long-term partnerships with every major global shipper, including DHL, FedEx and DTDC. As our partners, these global shippers provide Shoppre with the lowest possible rates, fastest delivery times and best shipping solutions.
Become a Partner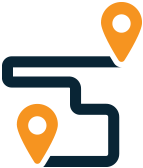 We analyze routes and rates so members can choose the fastest or most affordable delivery, depending on their needs.